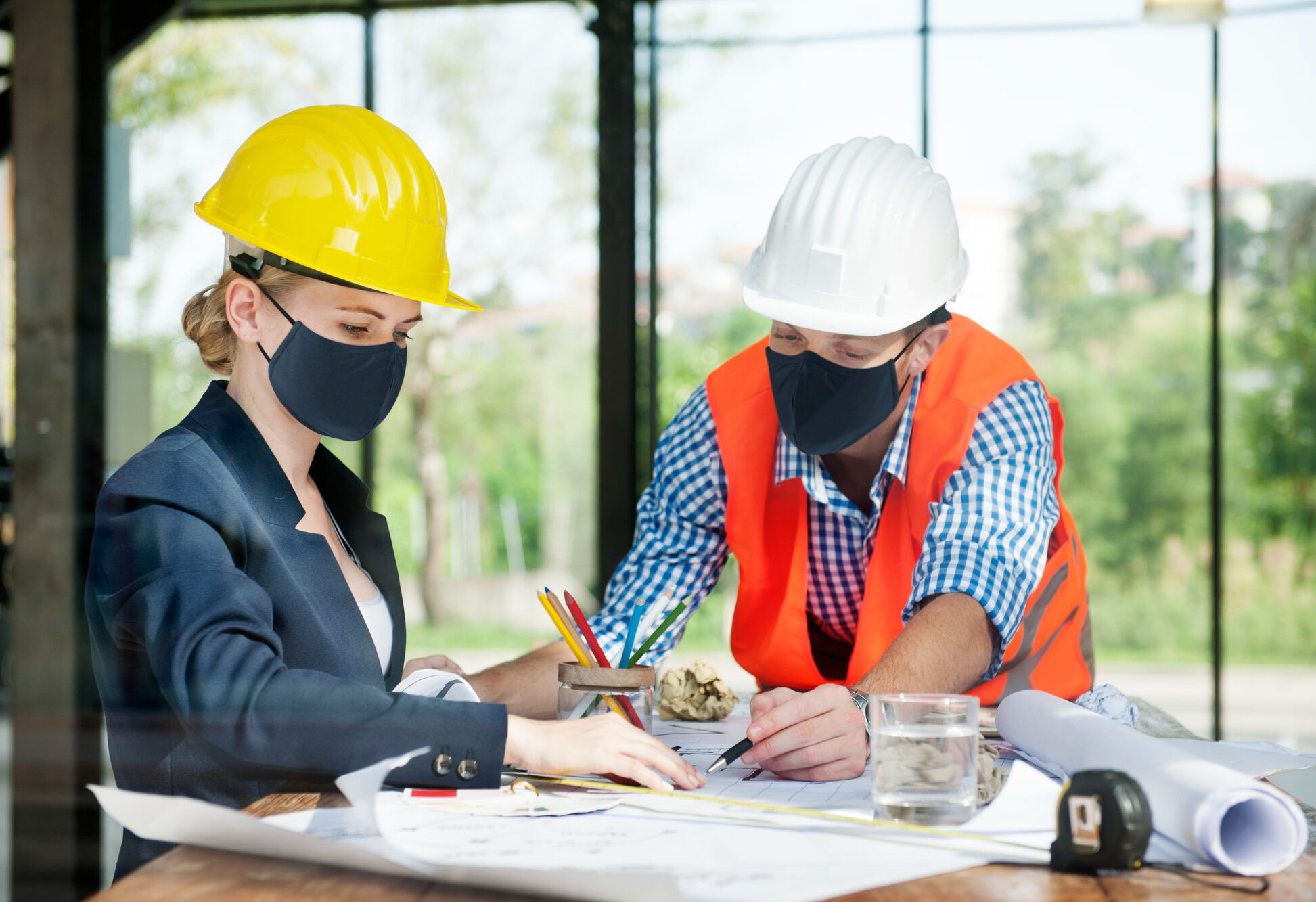 Construction in the COVID Era
COVID-19 has affected every industry in the world, including the vital and multifaceted construction industry. Challenges notwithstanding, we've seen that during these difficult times, construction solutions matter more than ever. From quickly building hospitals to donating lifesaving equipment, the industry has been a critical player in the response and recovery area. As such, worker safety in this critical field is always a top priority and will remain so even as constraints begin to loosen.
Construction consulting experts are key partners in helping to determine how to implement constantly changing health and safety regulations. With experience and expertise, they can help navigate the complexity of implementing evolving post-pandemic health and safety regulations set by the government and industry agencies and do so amidst challenges like continual disruptions in supply chains, operational restrictions, and rising prices. In this article, we'll provide an overview of best practices for complying with health and safety regulations in the post-COVID construction industry.

Returning to Work
The construction industry is the backbone of many supply chains and specialty contracting organizations. This has prompted the industry to adapt quickly to the changing health and safety challenges created by the COVID-19 pandemic. Many operators have been able to stay open because of the essential work they do. More businesses are now finally reopening in order to meet construction needs such as redesigning interiors to accommodate new pandemic-related regulations that encourage physical distancing and improve ventilation systems and general hygiene.
As more restrictions are lifted, many uncertainties still linger. Owners, developers, and construction project decision-makers are faced with difficult questions that have to be addressed before they can resume or continue operations, including:
What is the best way to protect the health and safety of your workers and other people on or near the worksite?
How can you effectively keep everyone informed of the necessary preventive measures?
How can you minimize the risk of transmission?
Do your employees need special training?
Are your safety measures enough for the risk of new virus variants?
What should you do if an employee or visitor has tested positive for the virus?

Risk-Reducing Measures
Health and safety guidelines should be followed to reduce the risk of spreading COVID-19 to other people or through contact with potentially contaminated surfaces. The following are key components of a comprehensive plan for complying with health and safety regulations on site:
Proper Ventilation of Indoor Environs: When applicable, this includes keeping the heat, vents, and air conditioning systems operational and the humidity between 40% and 60%. Upgrades or rebalancing of ventilation systems can improve air quality and dilute possible contaminants. It's best to consult qualified HVAC professionals when deliberating on equipment or system changes. Access to outdoor air can be maximized via the use of outdoor air dampers which are opened over the minimum settings in order to reduce HVAC air recirculation. Central air filtration should be maximized.
Efficient Use of Indoor Fans: If you use fans, make sure you minimize the chance of blowing air from one person to another. Wherever possible and in good weather, use natural ventilation by opening windows and doors to improve outdoor airflow. Fans should be used to increase the efficacy of open windows. Fans should never be placed in a way as to give contaminated air a direct channel to flow between people in the same room. Window fans can be used to exhaust indoor air to the outside. Conversely, outdoor air can be diverted indoors through other open windows without creating strong air currents in the room.
Developing Optimum SOPs: Develop standard operating procedures like cleaning and disinfecting workstations and shared equipment before and after use. Provide disposable wipes or towels. If cloth rags are used, they need to be washed and disinfected regularly. All tools and surfaces need to dry thoroughly after cleaning. Select appropriate disinfectants and do not mix different chemicals as the combination could be toxic when inhaled. Individuals with asthma or other respiratory conditions need to be especially considered as some of these products can trigger an attack. Cleaning staff needs to be trained on the use of cleaning products, including how to pay proper attention to the safety instructions on the product label. Hands should be thoroughly washed with water and soap for 20 seconds post-cleaning and as soon as gloves are taken off.
Hygiene of Portable Spaces and Communal Toilets: Temporary or portable spaces, such as toilets or trailers, should be thoroughly cleaned and disinfected daily. Establish and enforce strong personal hygiene practices and provide hand sanitizer dispensers, especially in high-traffic locations. Exhaust fans in restrooms should always be fully functional and operating at optimum capacity during periods of full occupancy.
Travel Guidelines: Limit the number of workers traveling together in a personal or company vehicle. If your employees need to use public transport, ask them to take extra safety precautions when around other people, such as wearing face masks and protective hand gloves.
Enforce Social Distancing Measures: Eliminate nonessential visits like vendor demos as much as possible, and practice social distancing when visitors are on site. Practice spacing rules when holding safety meetings or talks.
Limit Face to Face Interactions with WFH Options: Encourage anyone showing symptoms to stay home. Explore work-from-home options for administrative staff and arrange virtual site visits. Consider staggered shifts or hours, if possible.
Continue to follow all local, state, or federal face-covering requirements. It's important to keep on top of World Health Organization (WHO), federal, state, and local guidelines for updates. COVID-19-related risk management best practices are still changing constantly as the risk of a new wave remains. It is also important that you consistently monitor and evaluate the effectiveness of the mitigation strategies you have implemented.
Contact Willis Construction Consulting, Inc. for more information on how to estimate the cost of and plan for these measures to help you comply with post-pandemic health and safety regulations laid out by industry and government agencies.
Image Credits: Freepik @Creative Commons